What To Expect
We stress equality and tolerance of all humans regardless of gender, race, sexuality, religion, citizenship, country of origin, age, or socio-economic status. Anyone attending our events should feel the same.
These days, separating 'business' from 'personal' is over. You are your own brand so just show up and be yourself.
Upcoming: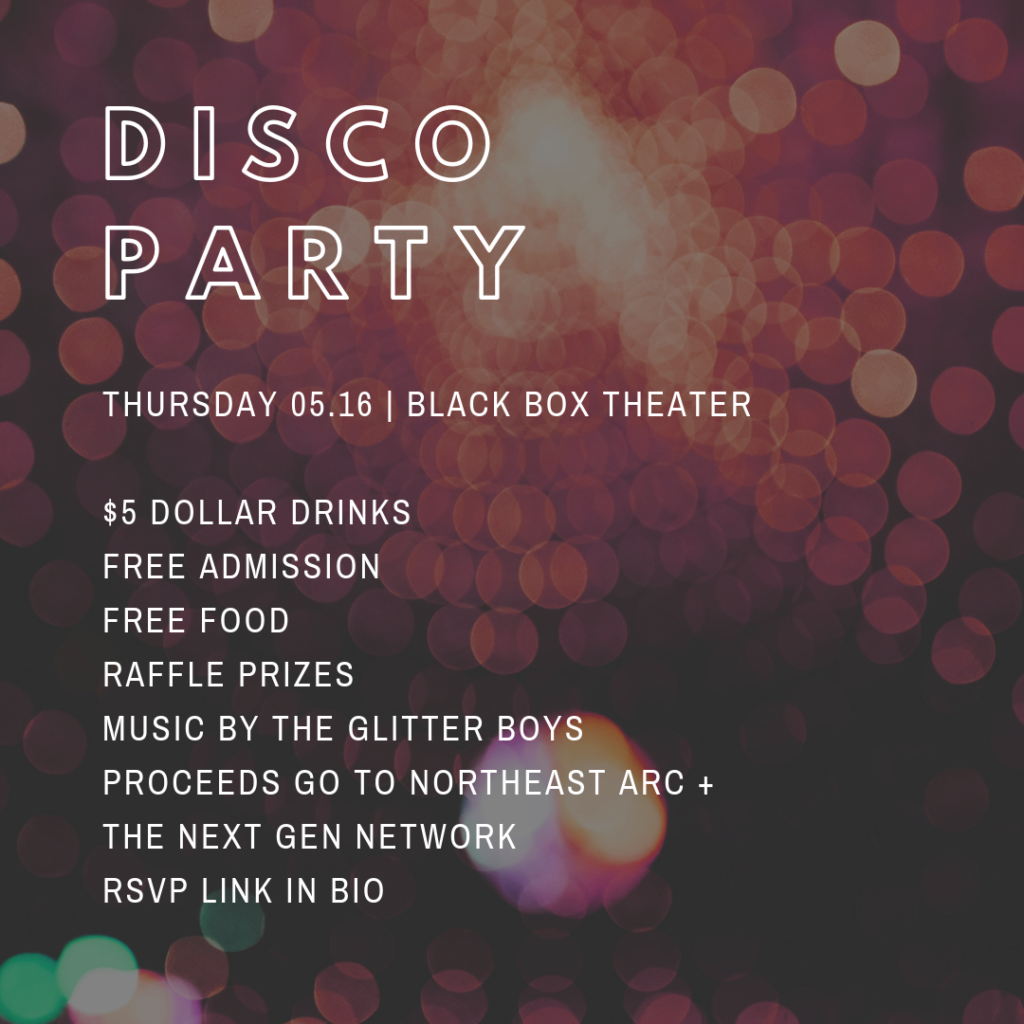 The Next Gen Network is turning 2 this May and we want to celebrate with you!
Join us as we go back in time for a DISCO FUNdraiser at Peabody's Black Box Theater 
Thursday, May 16th from 6-9 pm @ 22 Foster St., Peabody, MA 01960
Event is FREE to attend and open to the public. All are welcome, bring your friends! Please RSVP.
Complimentary food + cash bar ($5 MAX)
Dancing + entertainment by The Glitter Boys
Silent auction and prizes for you to take home
Wear your funkiest outfit and get ready to boogie
As The Glitter Boys say, "see you on the dance floor babiezzz!"
All proceeds from drink sales go to Northeast Arc, an organization that helps people with disabilities become full participants in the communities north of Boston while also providing support for their families. Proceeds from the silent auction go to operations of The Next Gen Network, a volunteer-based networking group for socially responsible professionals.
Silent Auction prizes available (so far, more are welcome!):
4 Red Sox tickets + parking pass - Donated by Arbella Insurance
$200 Bancroft & Co.Gift Card - Donated by Cody Young of Draper + Kramer 
Scratch ticket tree - Donated by Phil Richard Insurance
$50 Tartine Kitchen & Eatery Gift Card - Donated by Tartine
Healing consultation with Kristen Morrell - Donated by Kristen Morrell
60 Minutes of professional organizing - Donated by Make Peace With Organizing
Salem Style handmade accessories - Donated by Juliana Donovan, owner
Tickets to the Peabody Essex Museum - Donated by Carol Gorvitz 
Painting sketches - Donated by Miranda Aisling, director of Miranda's Hearth
Essex County Herb Basket - Donated by Palmer Pond Botanicals
One year membership to GenPEM - Donated by Peabody Essex Museum  
And more!
Our Regular Events
Volunteer Opportunities
Don't Miss Out
The Next Gen Network is growing and we'd love to have you. Join our email list to stay up to date on all upcoming events and volunteer opportunities from The Next Gen Network + other friendly organizations.
<<
Jul 2019
>>
Sun
Mon
Tue
Wed
Thu
Fri
Sat
30
1
2
3
4
5
6
7
8
9
10
11
12
13
14
15
16
17
18
19
20
21
22
23
24
25
26
27
28
29
30
31
1
2
3
Powered by Events Manager