Instagram for Business (Intermediate Tips + Tricks)
January 21 @ 5:30 pm

-

7:30 pm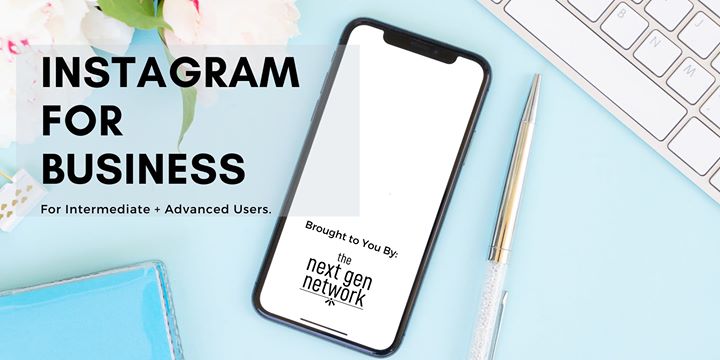 Lost in the middle of instagram? Know some stuff but not all? Come meet + learn from other local entrepreneurs on how to have the coolest feed on the block (or how they do it). This panel features Salem Style, eatdrinknorthshore, Creative Collective MA, and Creative North Shore, all known locally for their amazing curated accounts.
If you're reading this, you're comfortable-ish with Instagram and are looking to expand on your expertise to scale your business. This class is INTERMEDIATE Instagram for Business — not Instagram 101 🙂 .
Event contribution is $25. Discounted tickets are available for official members of Creative Collective MA or The Next Gen Network for $15. A few scholarships are available, please message us if you'd like to attend but things are tied up financially.
Please already have an Instagram account, and bring your charged cell phone/lap top to play around.
We plan to address the following topics as well as your questions:
-Stories: animations, how to "swipe up to learn more," sound, video, go live, IGTV, etc.
-Getting verified
-Increasing and engaging your following on social media
-How to get more likes, comments, and responses.
-How to best utilize hashtags, locations, tagging, GIFs, and more
-Much More!
SCHEDULE:
– 5:30-6:30: Light networking over tea and snacks. No alcohol will be served at this event. Commuting from Boston? No worries – the panel doesn't begin until 6:30 to give commuters time to get back to the North Shore.
– 6:30: Panel begins. Presenters will go over their respective approaches–what's worked for them, what hasn't, and more.
– 7:15: Q+A and Handle Exchange. We'll always leave room for your questions at the end! We'll also be doing a handle exchange where each student has the opportunity to share their page and allow fellow students to follow.
PANEL SPEAKERS:
Julianna Donovan | Founder of Salem Style ; local, sustainable, cozy, handmade knitwear, beautiful cohesive branding, and a strong community. Build a unique, engaged following for your e-commerce business and a loyal community that supports it.
Daybar Lisa Gaye | Co-Founder/Co-Host of eatdrinknorthshore ; Local food blogger, influencer, podcaster, emcee, advocate, and much more. Raise awareness for your brand and reap the rewards / perks of doing it for others. Learn how Eat Drink Explore continues to grow through collaborating on several mediums including blogging, podcasting, video, reviews, and more.
Kati Nalbandian | Assistant Director of Creative Development at Creative Collective MA + Creative North Shore ; Learn how to promote events, build an engaged following for your creative or lifestyle brand, and see how marketing for others builds your following as well.
Thank you to our supporters below:
FRIENDS + PARTNERS
Space: WorkTank . WorkTanks' co-working space for professionals is not quite like any other. From business offerings like wi-fi, conference rooms, seminar training room, copy center, daycare, lounge, and a great deal many more, membership to WorkTank brings you an extensive list of benefits and amenities that optimizes your ability to thrive.
Tea: Palmer Pond Botanicals . Some of the BEST tea we've ever had! Sample the beautiful, sustainable, locally harvested herbal tea blends crafted by the very talented Rebecca Ingalls of Palmer Pond Botanicals.
Event Marketing: Supported by Creative Collective.
EVENT ORGANIZER
The Next Gen Network: We're an inter-generational network of professionals in Massachusetts doing things differently. Our aim is to help you, ourselves, and future generations to thrive personally and professionally.
The Next Gen Network is designed for socially conscious professionals who want to expand their network through genuine connection, not sales. We believe people do business with individuals they like and trust; that true success comes not only in financial gains, but the ability to make a positive impact in our local + global community.
Through events, workshops, community service, and more as we go on, The Next Gen Network serves to bridge the socio-economic gap that's grown in this country; provide more opportunities for entrepreneurs + local workforce development, and level the playing field for us as well as the next generations to come. Did you know NGN members get discounted tickets for our workshops? Think about becoming a member of The Next Gen Network today.